ABOUT THE CHEF GUYS
Northwest Montana's Private Dining Professionals
We believe that food is an integral part of our lives and life's celebrations. Whether it's dinner with family for no other reason than to enjoy being together or it's a meal relished in celebration of one of life's special moments our goal is to enhance those experiences with meals that are as memorable as those moments. We pride ourselves in creating dining experiences that exceed your expectations and create moments of joy through every course.
All Chef Guys Experiences are handcrafted by professional Chef's, thoughtfully prepared and artistically plated in the comfort of your home or vacation rental. When it comes to dietary preferences, restrictions, or food allergies we are more than happy to go the extra mile and produce dishes that will meet any dietary requirement.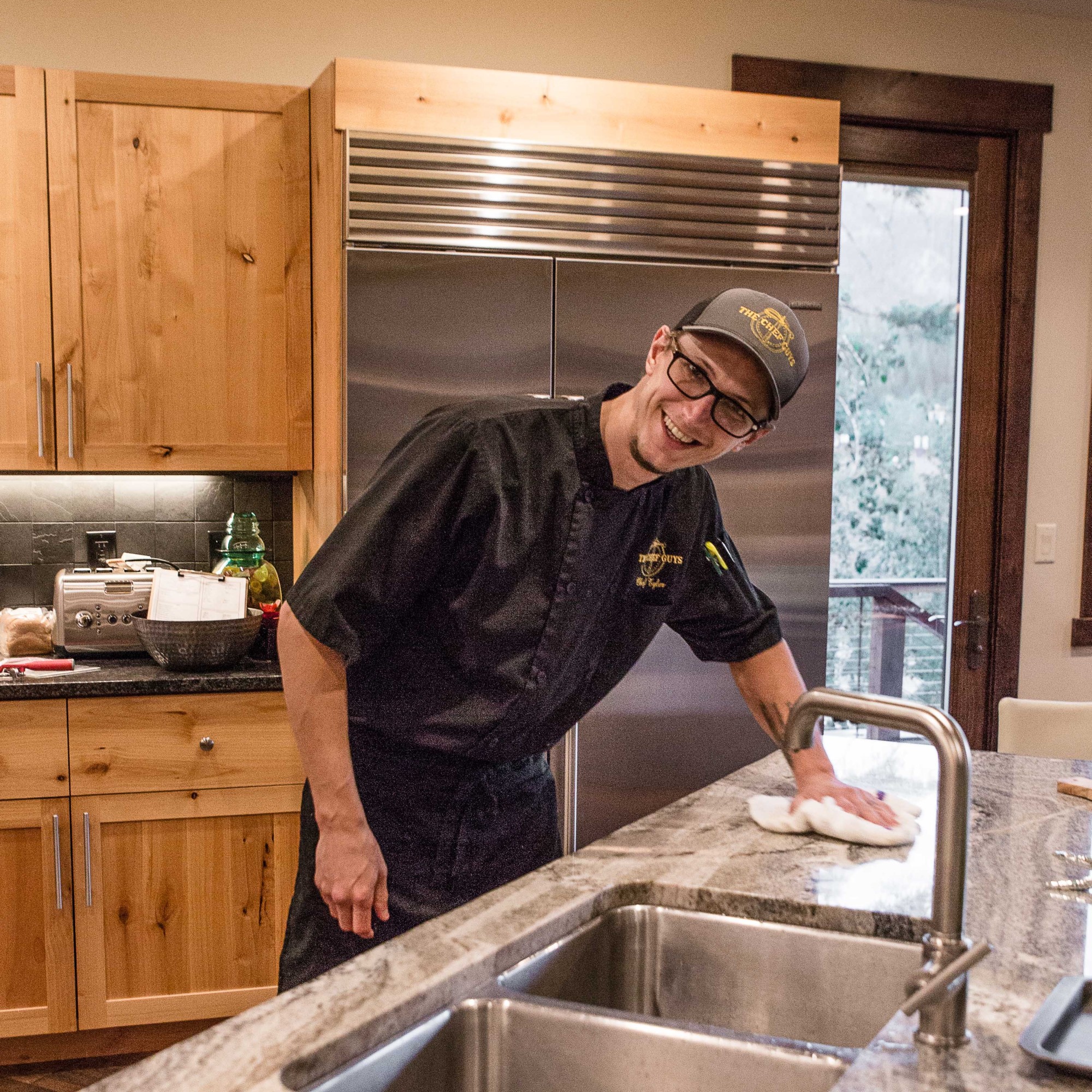 Chef Tyler
Hi, I'm Chef Tyler. Having grown up in the city of Houston, TX I found my way up to Montana in search of fresher air.  I moved here in 2011 with my son and his mother and instantly fell in love with the beauty and majesty of the Flathead Valley and surrounding areas.
The mountains and valleys weren't the only love I found. Following a long history of fine dining table service, I began cooking once I arrived in Montana.  With the guidance from many talented chefs and cooks, I learned the techniques of preparing, cooking, and plating fine cuisine.  The next step in my career would be something I never expected.
While cooking in various restaurants throughout the Flathead Valley, I acquired some fans. A couple whose names are Gail and Darryl followed me from restaurant to restaurant to enjoy a very special mushroom soup that I make. One day I was invited to prepare a private dinner for them and their family at their home in Glacier National park.
My first private dinner was truly exceptional experience not just for the guests, but for me as well.  That first hectic dinner would launch into the whirlwind business of luxury in-home dining.  Not long after I was cooking dinner for many of the guests that come to stay in Glacier National Park and all over the Flathead Valley.
I am now happy and proud to say that in the past three years, The Chef Guys have been the leading provider of luxury in-home dining in the Flathead Valley.  We have served up many memorable dining experiences to visitors and locals alike.  I'm incredibly excited to continue our endeavors and look forward to cooking exceptional meals for many more to come!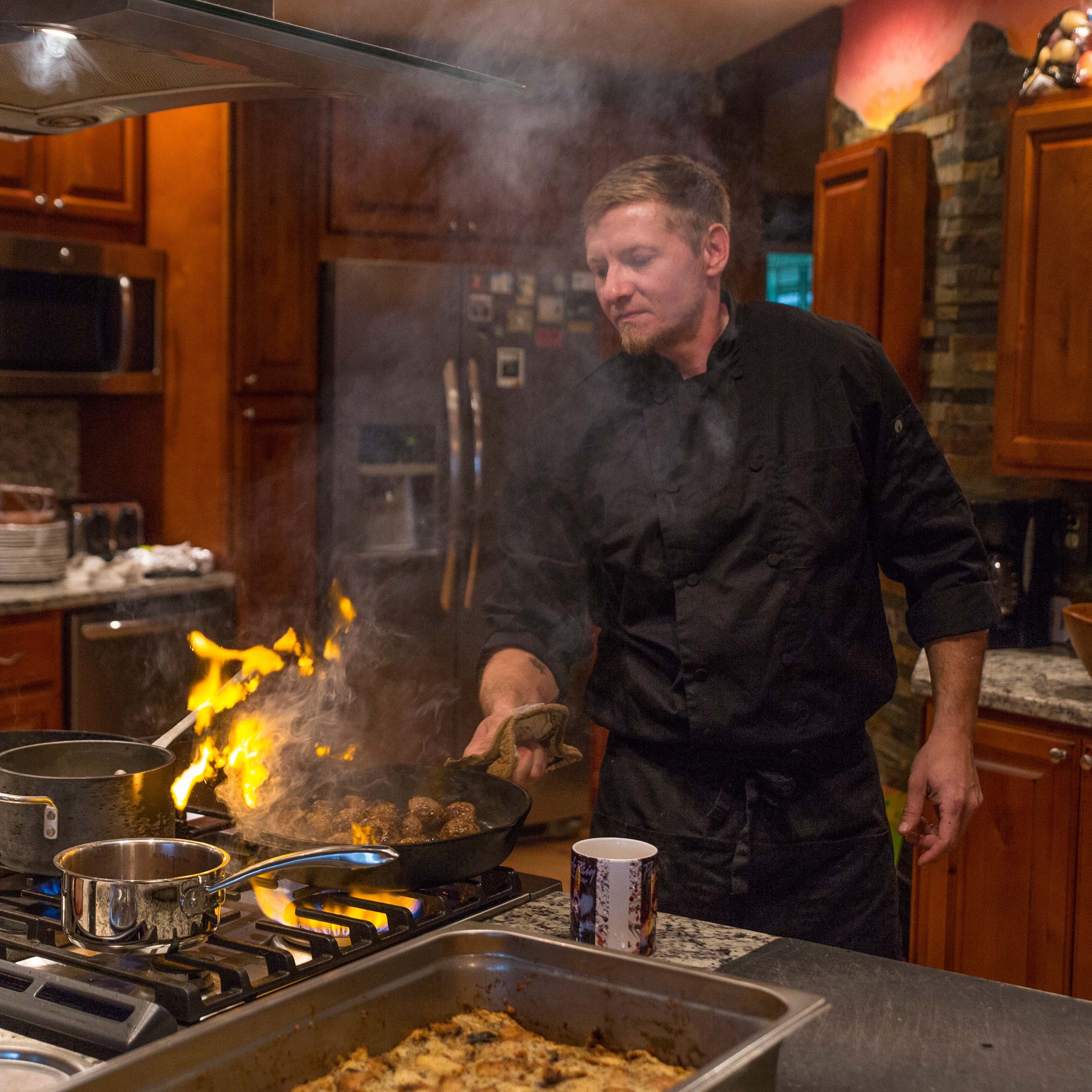 Chef Shaun
A local Montanan, I was born in beautiful Lincoln county, about 90 miles west of Kalispell. Growing up I came to love experimenting with food and spending quality time in the kitchen with my parents. It was there in our small home in Libby, where the comforting smell of mother's fresh baked zucchini bread, or my father's home-made marinara, danced with the scent of newly cut summer grass and blossoming lilacs. They both had a passion for good food, made from scratch, with fresh ingredients right from our garden. If ever there were someone to thank for instilling within me a deep appreciation for delicious food, it would be them.
I had my first kitchen job working at a pizzeria in upstate New York, where I attended high school for a few short years. It was a great experience, bringing me closer in touch with my father's east coast roots, and his love for pizza and Italian cuisine.
Once I had graduated, I decided to move back to Montana and began working as a breakfast cook right here in the flathead valley. While I greatly enjoyed my life here, I wanted more and by time I was 19, my love of travel and my hunger for adventure led me on a decade long journey that took me across America.
I worked my way across the states in various establishments, having done everything from fast-food to fine cuisine, learning from a variety of Chefs along the way. Over the years I found myself moving up in the restaurants I worked at, growing in my skill and knowledge. By the time I reached my late twenties, I had become a Sous Chef, specializing in French, Asian, and Continental dining.
It was around this time I decided to come back to Flathead Valley for a more permanent stay,  working in the various restaurants and eateries that littered the downtown area. It was also around this time that I had met Chef Tyler. As young, like-minded entrepreneurs, we quickly struck up a friendship, and not long after, needing help with a large dinner party, he asked me "You know anything about food?" My only response was a smug smile, and a firm nod.
After working together on various culinary projects, we decided to think bigger, and 'The Chef Guys' was born. It's been several years since that fateful night we established our partnership, after working a grueling summer together running a small eatery in whitefish. Since then we've been serving up residents and visitors alike with our creative take on fine cuisine with a Montana twist.
Today our mission is to provide people with an enjoyable and satisfying culinary experience, leaving our customers with a full belly, and empty plate, a night of memories with good friends and fine food. So the next time you find yourself in need of a truly unique dining experience, just call the Chef Guys and we'll cook for you.
CATERING TO THE FLATHEAD VALLEY, MT
We provide Private Chef Services to dinner parties and vacation renters throughout the entire Flathead Valley, Glacier National Park area, Flathead Lake Area, and beyond. Below is a list of the towns and areas we provide service to:
West Glacier, MT
Columbia Falls, MT
Whitefish, MT
Kalispell, MT
Polson, MT
Glacier National Park, MT
Flathead Lake, MT
Lakeside, MT
Somers, MT
Kila, MT
Marion, MT
Libby, MT
Bigfork, MT
Swan Lake, MT
Big Arm, MT
You can always make a special request for your location if the town your located in is not listed here.